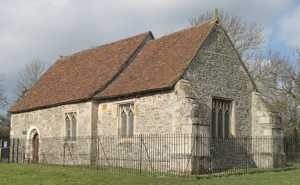 Elston
Old Chapel
Newark Archdeaconry
Newark and Southwell Deanery
Introduction
There is no specific mention of a church in the Domesday Book, although there almost certainly was one in existence as the owner of the land, Ilbert de Lacy, claimed the 'priest's land' against Bishop Remegius, and 'Norman the priest' had holdings.
The present building comprises a two cell nave and slightly lower chancel, mainly of 12th Century date, with zig-zag decoration to the south doorway, though with later work of the 14th and 15th Centuries; the windows are all of typical Nottinghamshire, square-headed, form, and are 14th Century in date. The buttresses at the east end may be of the 13th Century.
The interior represents a simple, early 19th Century layout with west gallery, box pews, squire's pew, and pulpit.
There is evidence of wall paintings on the interior walls, much of which appears to be 18th Century stencil decoration, though with evidence of earlier schemes below. The south door has graffiti dated 1717.
Throsby, writing in 1790, discusses two divisions of Elston, 'Chapel Elston' being called 'Stoke' (as it lies on the parish boundary with East Stoke). The chapel has separate registers, commencing in 1584. In 1870 it was amalgamated with Elston All Saints. It is now redundant and in the care of the Churches Conservation Trust.
Particular thanks to Matthew Phillips for research on this entry and to Jane and Bill Paulson and Chris Brooke for photographs.