Fledborough St Gregory
Churchyard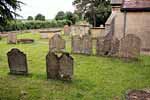 The churchyard on the
south side of the church
The churchyard is roughly rectangular in shape and is virtually integral with the former rectory that lies to the east. It is approximately 0.25 ha in extent. The church is positioned approximately centrally within the yard and there are burials on all sides.
Fronting on to the lane on the south side with a brick wall topped with stone approximately 70 yards in length. Towards the eastern end the wall becomes 'sunken' and is topped with iron railings. There are two entrances, an iron gate to the church and a wooden gate near the south-west comer. In 1714 the south side was 'fenced' as follows by Jno. Rayson 19 foot, Geo. Savage for Jno. Giles farm carted the wood round 16 foot, Wm. Brown for widow Nevils farm 15 foot, Geo Rimington farm 17 foot, Tho Brooks farm 19 foot, For the Hall grounds 5 foot, Geo Savage's farm 15 foot, Widower Woods farm 19 foot, Benj Taylor's farm 19 foot, Wm. Brown for his own cottage at Woodcoats 6 foot, Wm. Brown for Martine Cuthbert's cottage 7 foot, Wm. Brown for Jo Ashton's cottage 6 foot. The west side has a thin hedge and borders on a small lane. The north and east sides have a wooden fence with a brick wall on the north side close to the north-west corner.
There are approximately 98 tombstones. The earliest are a group of five headstones dated between 1735 and 1737 of the Giles family. They are listed grade II. The latest is 2012. Three of the tombstones are horizontal grave slabs near the nave of the church and they are decorated with Celtic design crosses. Nearby are two graves with upright Celtic cross stones of recent times.

The Rayson
grave markers
Leaning against the nave are two large gravestones mentioning the Rayson family.
Many of the gravestones are covered in moss or lichen and are difficult to read.