Fledborough
St Gregory
War Memorial
There is one war memorial in the church, referring to the Second Boer War of 1899-1902. It is located at the east end of the south aisle and comprises a brass tablet. It reads as follows: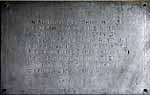 IN MEMORY OF JOHN CHARLES
FOURTH SON OF THE LATE
JOHN CHARLES PICKIN
OF FLEDBOROUGH MANOR NOTTS
CORPORAL IN THE KAFFRARIAN
RIFLES WHO DIED AT BLOEMFONTEIN
FEB 1 FROM WOUNDS RECEIVED
IN ACTION AT TABAKSBERG
S AFRICA JAN 29 1901 AGED 23
There is no war memorial relating to either the First or Second World Wars. This could mean that there were no casualties from Fledborough. However the parish does not figure on the list of 'thankful villages', which are villages where all the then members of the armed forces survived World War I. Nor is it listed as a 'doubly thankful village,' i.e. one which also lost no service personnel in World War II. Given the village's tiny population, it seems more likely that nobody actually served in either war.