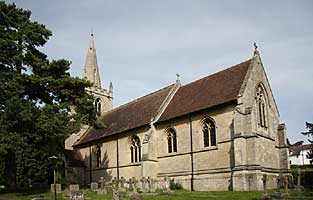 Grove
St Helen
Newark Archdeaconry
Bassetlaw and Bawtry Deanery
Introduction
Re-built entirely, of stone, in 1882 by Hodgson Fowler in late Decorated style. It is on a site to the north of its predecessor, which Throsby in 1790 said was a small church consisting 'only of nave and chancel with a low tower'.
The Victorian church consists of chancel, nave, organ chamber, vestry, south porch, and west tower with pinnacles and spire, containing a clock and four bells. Over the porch is a niche bearing a statue of St. Helen. The style has been described as a variation of 'Late Decorated'.
On the east side of the churchyard there is a lychgate with walls and railings.
Inside is a fine incised slab to Hugh Hercy and his wife Elizabeth of 1455, he is civilian hat and armour, she with steeple headdress.
The organ by Bevington & Sons (1859) was restored in 1992 when an electric blower was installed.
Particular thanks to Matt Phillips, Andy Nicholson and Chris Brooke for research on this entry
and to Geoff Buxton for the photographs.