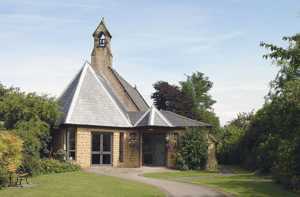 Gunthorpe
St John the Baptist
Nottinghsm Archdeaconry
Gedling Deanery
Introduction
The church is situated on the main street of Gunthorpe. It was part of the Parish of Lowdham, but in 1993, it became a parish in its own right. The present church is a much-extended version of a Chapel of Ease, which was built in 1850.
There had been a chapel in Gunthorpe since medieval times but it slowly fell into disrepair and ultimately became a blacksmith's shop. This chapel was not on the site of the present church.
In 1850 a new chapel was built on land given by Peter Broughton, the Lord of the Manor. That building now forms the nucleus of the present church. It was of simple design consisting of chancel, nave and bell tower. It was built in Bulwell stone.
The first extension was added in 1991. It consisted of a large glass-fronted annex which provided a meeting area, kitchen, toilet and vestry. This was dedicated to the memory of Michele Hough.
In 2001, a new church room was built which is known as 'St John's Room'. There is also a store room and kitchen extension.
Particular thanks to Barbara Worrall and the late Mike Worrall for research on this entry