Harworth All Saints
Bells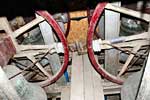 In 1740 there were three bells listed. In 1893, there were five bells which were rehung in cast-iron 'H' frames by Taylors of Loughborough. The frames are mounted on fabricated girders which consist of two pieces of channel mounted back to back with a gap between; these are riveted to a top plate. Taylors also added a new tenor bell at this time; the cost was £207 16s. 3d.
The six bells in the tower in 2013 were:
Inscription
Dated
Founder
Size
Weight
1

VENITE EXVLTEMVS DOMINO 1709

1709
Samuel II Smith
24.00"
2-2-19
2

THOMAS LANCASHIRE VICAR
THO:HIBBERT
THO:WILSON CHURCH 1709 WARDENS

1709
Samuel II Smith
25.50"
3-0-2
3

1694 RECAST 1893

1893
John Taylor & Co
29.00"
5-0-2
4

BONV EST CONFILERI DOMINO R B

c1560
(unidentified)
29.38"
4-2-12
5

SOLI DEO GLORIA 1641

1641
George I Oldfield
32.25"
5-1-21

6

RING IN THE NEW
J:TAYLOR AND C..
BELLFOUNDERS LOUGHBOROUGH

1893
John Taylor & Co
36.50"
9-2-10
Bell 4 dates from the period 1560-80 and may be the work of Richard Brock who cast bells in the West Riding of Yorkshire.