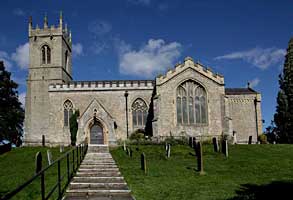 Harworth
All Saints
Newark Archdeaconry
Bassetlaw and Bawtry Deanery
Introduction
A church is mentioned here in Domesday Book. The heavily restored chancel arch and south doorway date from the 12th century.
The church consists of chancel, nave, transepts, south porch and west tower. The embattled tower is largely late 14th century but with earlier masonry apparent in the interior east wall; it has eight pinnacles and contains six bells, re-hung in 1893. It is the most substantial part left after the church was largely rebuilt in 1869 by the architect, C J Neale of Mansfield.
The transepts, vestry and organ chamber were added in 1869 by public subscription.
A new pulpit, reading desk and seat, of oak and stone, were added in 1886.
Particular thanks to Rowan Gillam-Hull, Andy Nicholson and Dr Chris Brooke
for research on this entry and to Geoff Buxton and Dr Chris Brooke for the photographs