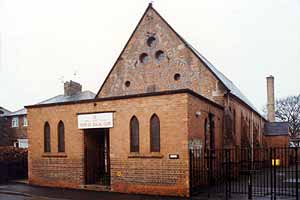 Hucknall
St Peter
Newark Archdeaconry
Newstead Deanery
Introduction
Kelly's Directory of Nottinghamshire (1900) records 'The church of St Peter in the Watnall Road, erected in 1892 at a cost of £765, is a structure of brick, consisting of a chancel and nave; the foundation stone was laid by Her Grace the Duchess of Portland, and the church will seat 250 persons.'
A mission was started in 1889 in the newly created outlying hamlet of Hazel Grove. At first services were held in a cottage, and a Sunday School was established. In 1892 a brick church was built (on land by the side of Watnall Road given by the Misses Jackson) at a cost of £670. The Revd Charles Blanchard was curate in charge at that time.
The church prospered, and a school room and vestry were added.
In 1962 the church became redundant, and the figure of St Peter was 'rescued' and taken to St Mathias' Church, Sneinton.
Particular thanks to Zoe Childs and Maureen Newton for research on this entry
and to Geoff Buxton for the photographs.