Keyworth St Mary Magdalene
Features and Fittings
Chancel
Altar, stone.
Reredos, wooden, carved modern, coloured and gilded. In the centre of the reredos is a crucifixion scene, on the left a coloured plaque showing the tears and the alabaster pot of ointment of Saint Mary Magdelene, and on the right a shield showing the initials SMM interwoven (for St Mary Magdalene, the patron saint of this church).
Statue, in the north-east corner of the sanctuary, high up and gazing down on the altar, carved in wood and coloured, depicting Mary Magdalene holding a model of this church in her hands (installed 1968).
On the south side wall, beside the altar, is a simple sedilia consisting of a single wooden plank fitted into the low window sill.
Beyond the altar, but still in the chancel, is the organ console, then two sets of choir stalls on either side.
A wooden rood screen dated 1903.
Nave
The pulpit was installed at the time of the 1870/2 restoration, in memory of an active churchman who died prematurely in 1872 - Richard Tookey Flinders.
In the south corner of the nave, just outside the screen, is a stone pulpit.
Filling the nave of the church are rows of wooden pews, installed in 1884.
At the west end of the Nave stands the tower. Under the tower are wooden chairs with blue vinyl seats, used for overflow congregations. Within the tower are six bells, with ropes down to the ground.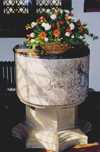 In the north-west corner of the church, to the side of the tower, is an old stone font - this is the oldest feature in the whole church. It has been dated as 12th century, and may well be from the Norman church which preceded the present building, and of which there are no other remains. It stands on a modern plinth.
Lady Chapel
At the east end of the arcade between the nave and the Lady Chapel is a fairly modern wooden carving of a crowned Virgin and Child.