Keyworth St Mary Magdalene
Glass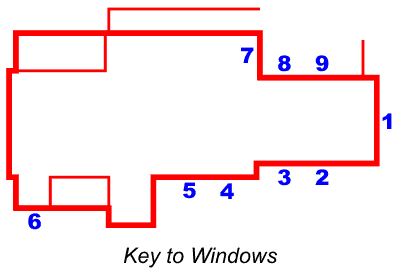 All the present window glass is of the Victorian period or later, and is generally unremarkable. However, some later insertions are more exceptional, particularly that of the Nativity in the Lady Chapel altar window (post 1960), the St Laurence design in the Chancel (1972), and, most recently, the installation of a stunning Millennium Window depicting all the village churches in the year 2000 in a 'Unity' theme.
The stained glass in the building is described here. Other windows have plain glass.
East Window
1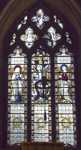 The East Window depicts the Crucifixion of Christ (Consumatum est - "It is finished") with panels of St Mary and St John on either side, the whole surmounted by three quatrefoils of St Mary and Child and two angels. Installed during the 1870 to 1872 church restoration.
Chancel, south side
2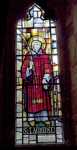 St Laurence window, honouring a deacon and bursar of the early Christian church. Design by J N Lawson, painted by F W Smith, 1972. Given in memory of Frederick Ernest Folkes, for many years Rector's Warden and treasurer.
3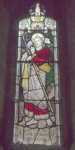 Window of the Good Shepherd with a smaller window (depicting St Cecilia seated at a small pump-organ or harmonium) beneath; both undated.
Nave
Figures of St Matthew
and St Mark
Figures of St Luke
and St John
4,5Two 2-light windows depicting Saints Matthew, Mark, Luke and John, the four Gospel writers. Installed as a thank-offering for Victory and Peace after the Great War, during the incumbency of Rev H P Ling in 1919.
Baptistry
6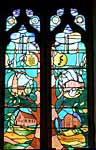 The Millennium window, given by and in memory of Bernard and Mildred Coyne. Depicts the four village churches (Anglican, Methodist, U.R.C. and Catholic) with a symbol for the Baptists who do not have their own building. Prepared and installed by M D Stokes, January 2001.
Lady Chapel
7The Nativity with thanksgiving for the life and work of Canon George Fry, Rector of Keyworth from 1949 until his death in 1960. Also bears the signature of the designer and a small lancet with winged cherub.
Chancel - north side
8

Depicts St Paul. In memory of Alfred Potter, Rector of Keyworth from 1859 to his death in 1878 and of his wife, Catherine, who died in 1916. Installed by one of their sons, Rev Sidney P Potter, the noted local historian who became Rector of East Leake and then of Tollerton.