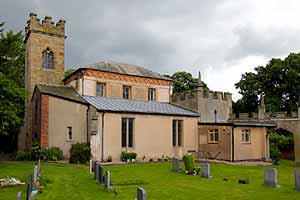 Tollerton
St Peter
Nottingham Archdeaconry
East Bingham Deanery
Introduction
Tollerton lies some 4.5 miles south-east of Nottingham. The village and church was mentioned in Domesday Book as a manor called Roclaveston, which later became Tolaston and later still Tollerton.
The church consists of a chancel, a nave with a hipped roof, side aisles with arcades of three bays, a mausoleum on the south side of the chancel and an embattled north west tower with three bells. It is connected to the adjacent hall by a cloister wall. In the gallery above the west entrance is the 'Squire's Pew' equipped with a fireplace. There are two stone fonts, one a medieval tub shape, the other modern Gothic interlace; also a rare Norman pillar piscina.
The church was substantially remodelled c.1812 except for the chancel which was restored in 1842. The arcades are still recognizably thirteenth-century, though rebuilt in 1909; the thin tower has odd, stiffly Gothic windows with triangular heads and a stepped parapet.
Most interesting is the mausoleum to Pendock Barry's wife Susannah (d.1811) separated from the south aisle by an elaborate wrought-iron gate. Inside is a glass ceiling on three semi-circular arches. A great memorial fills the east wall; smaller obelisk memorials in north and south niches bear unusual inscriptions.
The manorial hall was built c. 1675, much altered in the early 18th century, and again c.1800, with the addition of 'Gothick' towers.
The census of 1801 shows a population of 176 persons. This declined over the next 100 years, falling to 123 in 1891, but remained static until World War II. In the 1950s and 1960s many new houses were built to the south of the village and the population increased to 1,207. By 1971 the population had reached 1,700, and remained static until the millennium.
Particular thanks to Ruth Hartley, Dr Chris Brooke and Andy Nicholson for research on this entry
and to Geoff Buxton and Dr Chris Brooke for the photographs.