Kneeton St Helen
Churchyard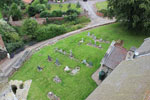 View of the northern part of
churchyard from the tower
The churchyard is near circular in form though truncated at the west end, and elevated above the surrounding road, especially to the north. Burials are located on all sides, but with some evidence of clearance towards the east end. It contains some fine Swithland slate grave-markers, and is of considerable interest in that it is near-circular in form, implying a possible early foundation date for the church.
The boundaries on the south and east sides comprise a continuous, low stone wall, whilst on the west and north sides there are brick walls, that to the north appears to be pre-19th century in date.
There are burials on all sides of the churchyard, with the earliest evidently close to the church building on the south side. The area in the far west is devoid of grave-markers and has apparently been cleared at some point.
Immediately adjacent to the south wall of the nave are three, ex-situ, grave-markers which are listed in their own right, Grade II, for their group value. The oldest legible gravestone is for John Knight who died 19 March 1719 aged 53.