Kneeton
St Helen
Monuments and Memorials
East end of the north wall. Large brass plate: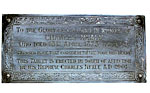 TO THE GLORY OF GOD, AND IN MEMORY OF
CHARLES NEALE
WHO DIED 18

TH

APRIL 1875, AGED 79.
BLESSED IS HE THAT CONSIDERETH THE POOR AND NEEDY

THIS TABLET IS ERECTED IN TOKEN OF AFFECTION
BY HIS NEPHEW, CHARLES NEALE, A.D. 1901.
Over the door opening into the porch, a brass plate with the inscription:

In Memory of Henrietta Anna Countess of
Carnarvon, and in Fulfilment of her Wishes
this Church was restored by her Son Henry
Howard Molyneux 4th Earl of Carnarvon 1880
Interior of the tower, four small oblong oval white marble tables, once part of large mural monuments erected in various parts of the church to members of the Story family, former residents of the parish.
On the north wall:

Near this Place Lieth
The Body of MRS ELIZABETH STORY, wife
Of JOHN STORY Esqr. Who died January the
9th 1750, Aged 64.
To the Memory of JOHN STORY, the
Elder Esqr who died the 15th Day of
March 1769, Aged 83.
Above are two cherubs and below a shield of arms bearing Perfessedancettee argent and sable, three Cornish choughs counterchanged, Story.
On the south wall are three tablets inscribed: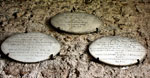 To the Memory of
Elizabeth, Margaret, Dorothy,
And Ann Story the Daughters of
JOHN STORY of Kneeton Esq. by ANN his Wife
The Daughter of PHILIP LACOCK of Woodborow
In the County of Nottingham, Esq.
ELIZABETH STORY died the 15th of April 1755, Aged 42.
MARGARET STORY died the 27th of September 1775.
Aged 63
DOROTHY STORY died the 23rd of June 1778,
Aged 63.
& ANN STORY died the 13th of Sept 1780,
Aged 70
To the Memory of
JOHN STORY of East Stoke Esq
The only Son of
JOHN STORY of Kneeton Esq. by ANN his Wife
Who died the 19th of October 1768
Aged 51.
Also of ANN STORY, the Wife of
JOHN STORY of East Stoke Esq
Who died the 6th of August 1751
Aged 35
John Lacock Story
Ob : 8 : Aug : 1797
AE. 53
SARAH his widow
Ob : 3 : July : 1819
AE 74
Before the restoration of the church in 1879 there were nine or ten floorstones in the nave, which were covered by the new tile floor.
There is a brass plaque on the vestry wall stating:
THIS VESTRY WAS
REFURBISHED IN 1995
IN MEMORY OF
JOHN GEORGE WILLOWS
1910 – 1994