Kneeton
St Helen
Glass
The windows in the nave and chancel are Victorian, and date from the 1879 restoration. They are all plain glass with one exception.
There are two two-light windows and a single light in the north wall.
The westernmost window on the south side is a stained glass representation of the angel at the tomb indicating to the women that Christ has been raised from the dead. At the foot of which is the inscription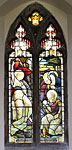 To the Glory of God and in memory of John Neale who
died 18 Nov. 1877 & of Charlotte his wife who died 5 July 1900
The window is by Heaton, Butler and Bayne.