Langar
St Andrew
War Memorial
The war memorial is located in the churchyard to the right of the path as you enter through the main gate.
The architect was Geo. M. Silley of 17 Craven Street, London WC2 and the blueprint (PR XBC 10 L) shows a date of July 1919. The height of the monument is 13 feet 9 inches and the maximum base width is 7 feet 6 inches. The cross at the top is a separate section held in place by a copper dowel joint.
The inscriptions
East Face of War Memorial

TO THE HONOURED
MEMORY OF THOSE WHO
GAVE THEIR LIVES IN
THE GREAT WAR 1914-1918
A BURROWS - C FIDDIES - T W GARRETT
S GOODMAN - W GOODMAN - G E IZZETT
F H PATRICK - B REEVE - J ROWORTH
J SHEPHERD - H SMITH - J E SPENCER
W SPENCER - A B TURNER - F WRIGHT
"GLORY HONOUR AND PEACE"
ALSO F L STARBUCK
South Face of War Memorial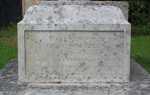 ALSO IN MEMORY OF
THOSE WHO DIED
1939-45
J S BAXTER - C D HUDSON - J L STARBUCK
THEY LOVED NOT THEIR LIVES UNTO DEATH
Roll of Honour
Inside the church, on two of the pillars are the Rolls of Honour for those from Langar-cum-Barnstone who served in the two Great Wars.
The First World War Roll of Honour
in the Church
The Second World War Roll of Honour
in the Church
Langar Squadron
There is a Book of Remembrance in the South Aisle for those from 207 Squadron (based at Langar Airfield) who lost their lives during World War II. A brass plaque above reads:
THIS ROLL OF HONOUR CONTAINS THE
NAMES OF 251 PERSONNEL WHO GAVE THEIR
LIVES WHILE SERVING WITH 207 SQUADRON
R.A.F. LANGAR
September 21st 1942 - October 13th 1943
There is also a seat in the churchyard commemorating those who died from 207 Squadron.