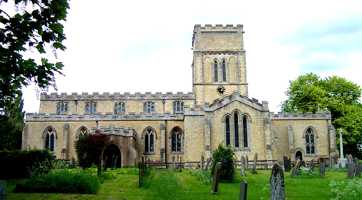 Langar
St Andrew
Nottingham Archdeaconry
East Bingham Deanery
Introduction
The church of St Andrew that we see today is quite different from the original building which would have been built around the 13th Century. In the 15th Century the roof was raised allowing for the inclusion of a clerestory, letting more light into the nave. The modern building underwent major refurbishment work in and around 1860. This was carried out by the then incumbent, the Rev Thomas Butler. The present church of St Andrew is a cruciform structure, consisting of nave with clerestory, north and south aisles, south porch, north and south transepts, a central tower and a chancel with a small north vestry. In celebration of the year two thousand, an additional Millennium Room was added to the north of the building. This new room includes kitchen and additional meeting space as well as a toilet.
Religious activity has taken place in and around Langar for many centuries. The earliest known church in the area was that of St Ethelburga (also known as St Aubrey's or St Ambrose's), approximately one mile due south of St Andrew's. In Saxon times, Langar was a place of great pilgrimage, where as Vatican archives reveal, "great multitudes resort" to seek release from their sins. According to an entry in the Domesday Book, Langar possessed half a church. Most of the land surrounding Langar at that time belonged to William Peverel, who later gave the church to the newly founded Priory of Lenton during the reign of Henry I.
The main features of interest within modern day St Andrew's are the fine monuments in the transepts and the west window:
The north transept contains monuments to the Chaworth family of Wiverton.
The south transept contains a beautiful tomb of black and white marble, in honour of Thomas, Lord Scrope and his wife Philadelphia, with the kneeling figure of their son Emanuel.
The coloured window in the west wall, was a late addition in 1916, donated by Henry Dennis Readett-Bayley in memory of his parents, Thomas Bayley and Annie Mary Bradley-Bailey, owner of the adjacent Langar Hall from 1860.
Particular thanks to Geoffrey Yarnall for research on this entry