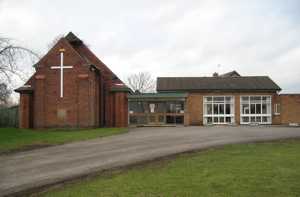 Mansfield
St Augustine
Newark Archdeaconry
Mansfield Deanery
Introduction
St. Augustine's Church Mansfield was built to serve the newly developed Bull Farm Estate located to the north of the town. The land was donated by the Duke of Portland in 1927 and he laid the foundation stone in 1928.
Originally the building was designated as a parish room and Sunday School. In the 1960s it was converted into a permanent church and a community hall was added in 1971.
The building is of brick with a steeply pitched tiled roof. The entrance is from the 1960's work and is shared with the Community Hall. At least three of the church's fixtures predate it: the single bell is dated 1800, the organ appears to be much older and the pews were rescued from the St Ann's Church in Nottingham in 1971 and date from 1864-71.
Only one stained glass window decorates the church, it depicts Christ in the centre with the faces of two Roman soldiers below, and is said to depict the Resurrection.
Particular thanks to Doug Fletcher for research on this entry
and to Geoff Buxton and Doug Fletcher for the photographs.