Nottingham
St Ann
Features and Fittings
On each side of the chancel arch there were short painted boards inscribed with the Ten Commandments. The one on the north side was partially obscured by the pulpit. Both were in situ when the church was partially demolished.
Pulpit
A circular white marble bowl decorated with tracery circles supported by granite columns. It was located on the north side of the chancel arch.
Communion Rail
No image, but given to Kegworth Parish Church at the time of demolition. It was originally presented to the church by Tom Shipley in 1958 in memory of his wife Eliza and daughter Frances.
Screen
A new oak screen was installed in 1929 in memory of Emma Miller, wife of William Miller.
William Miller also presented an oak reredos in the same year. It had six quatrefoil headed panels on each side, with four slender shafts supporting the pediment. Quatrefoil tracery heads supported the pediment which consisted of a curved centre piece with flat side pieces.
Lectern
The brass eagle lectern located on the south side of the chancel arch was transferred to St Mary's Church, Orston, when the church was demolished in 1972. The inscription on the lectern reads: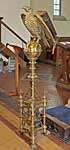 TO THE GLORY OF GOD
PRESENTED BY
WILLIAM MILLER
WHO WHEN A BOY
WAS A CHORISTER IN THIS CHURCH
AND WHO TOOK PART IN ITS CONSECRATION
IN LOVING MEMORY
OF HIS DEAR PARENTS

Brass Cross
An ornamental brass cross was given to the church in 1918 by Charles Francis and Edith Moore.
Credence Table
Given in memory of Wilfred Thomas Smith, killed in action December 28th 1915.
Pews
The 1863 plans show twenty three pews each side of the central aisle plus four small ones either side of the west door. The north aisle which was added in 1879 had thirty one pews, and the south aisle (construction date not identified) had twenty one, plus four more in the south-west corner behind the font. Some of the pews were transferred to St. Augustine's Church, Mansfield, when St. Ann's closed.
Choir Stalls
No information other than there were three rows, and they were removed to St. Augustine's, Mansfield, at closure.
Font
No information regarding the main font. A small font for use at private baptisms was given by Mrs King in memory of Canon M J C King.
Vestry Screen
An oak vestry screen removed from the church was installed in Hucknall parish church in 1974.