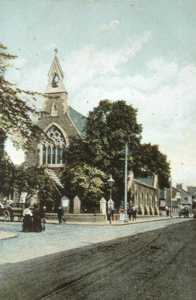 Nottingham
St Ann
Nottingham Archdeaconry
Nottingham South Deanery
Introduction
St Ann's church was a daughter church of St Mary's, Nottingham. It was commissioned in 1864 to address the needs of the expanding population on the eastern part of the town. Unlike many new churches of the time, it was built at the very beginning of the area's development.
Designed by a local architect and constructed of mainly local material, it was a comparatively large traditional church with accommodation for a congregation of 1,300, with 700 free spaces.
St Ann's church served a predominantly poor district, but was well used throughout its life. Late in its life it welcomed immigrants from many parts of the shrinking British Empire, who boosted the congregation, ensuring that within the re-development of the area a new church was needed for the parish.
Although it was never a fashionable church, it attracted some remarkable incumbents. Two of its nine vicars became bishops, and one, the Rev. W.J. Caley (1925-34) probably raised a few eyebrows. He was regarded as an Angelical Evangelist, he held street services, Evangelical meetings on Saturday evenings, and preached in the local public houses – of which the parish had many.
Closure and demolition took place in 1971, but eighteen months later, after holding services in a junior school, the new church of St Ann's with Emmanuel was opened nearby. It exists as a symbol of change and continuity within a vibrant community.
Particular thanks to Doug Fletcher for research on this entry and for the images.