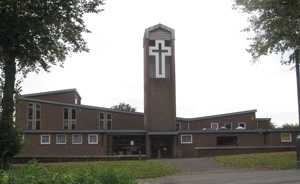 Nottingham
St Ann with Emmanuel
Nottingham Archdeaconry
Nottingham South Deanery
Introduction
The foundation stone for this new church opposite the shopping precinct on Robin Hood Chase, St Ann's, was laid in November 1972. It was dedicated in April 1974.
It was designed by Vernon Royle of Royle & Whitehorn. The main frame is pre-cast concrete, the building faced with grey/brown bricks.
The roof slopes from high on the east down to the entrance lobby which is next to the square tower. The large main body is divided into three by folding partitions, comprising the nave, social room and hall (with stage). There is also a kitchen and toilets off a short corridor near the entrance, and parish office and vestry.
The nave has north and south aisles with square pillars. The pulpit is also used as a lectern. There is a pipe organ.
The building has plain rectangular windows. Linoleum tiles are laid almost everywhere except for the social area which has carpet tiles.
At the east end outside is a white cross and there are two more of fibreglass on the tower. There are no bells, but the tower contains a loudspeaker.
Particular thanks to Doug Fletcher and Andy Nicholson for research on this entry
and to Geoff Buxton for the photographs.