Nottingham St Ann with Emmanuel
Archaeology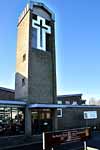 The tower
The architect entrusted to design the new church was Vernon Royle of the Nottingham firm Royle and Whitehorn. It is constructed around a pre-cast concrete frame with the external walls of grey/brown brick. A square brick tower rises in the centre of the building. A pair of fibreglass crucifix set within a stone frame of the same shape decorates the north and south faces of the tower, which at a lower level is flanked on each side by long low roofs sloping from the east and west towards the centre of the building and meeting just west of the tower. It is not possible to see from ground level what these are roofs are covered with, but the tower has a grey metal roof, possibly sheet Nuralite or Zinc. On the north elevation a lower section of the building accommodates the main entrance and connecting corridor.
The internal accommodation comprises a large rectangular area divided into three sections by the use of two folding partitions opening liturgically north-south. The east end of the rectangle houses the church, with the social area and hall filling the other two. Ancillary rooms include a kitchen, toilets, vestry and parish office.
| | | | |
| --- | --- | --- | --- |
| The interior looking east | The south aisle | The interior looking north-west | The sanctuary |
In the church area the north and south aisles formed by the use of pre-cast concrete shafts are painted white, as is the exposed concrete frame of the building, which is of plain brick, the same as the external face forming the main decoration. A wide ceiling-to-floor section of brickwork is flanked by plastered, white painted rectangular shafts behind the altar form the east end. A painted wood strip ceiling completes the decoration of the interior.
Wood block flooring covers the nave and aisles, with carpet covering the raised floor of the sanctuary.