Nottingham St Ann with Emmanuel
Features and Fittings
Pulpit
Readers' desks on
south side of the
sanctuary
Lectern
Altar
Communion rail
The sanctuary furniture is very modern. On the north side and set to the rear is a teak framed pulpit comprising of five legs with a plain teak panel between the top and bottom rails level with the step on which the pulpit stands. Over the panel is a book rest. To the right of the pulpit is a pair of clergy desks in the same style as the pulpit; each has a teak chair with green upholstery. On the south side of the sanctuary is a desk and chair matching those on the north side, plus another of the same design but double the width, having two seats. A light oak lectern is set more to the rear. It has a wooden base which extends to the rear and a Y-shaped pedestal supporting the book rest.
The altar has a substantial oak panelled box base with a single line drawing of the Christian fish emblem.
Across the front of the sanctuary and on both sides enclosing it is the communion rail, which is of plain polished teak supported by tapered black shafts.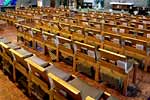 Seating for the congregation in the central nave and the north aisle consists predominantly of rows of light oak framed chairs with green upholstered seats and back rests, while the south aisle has modern pews aligned east-west. A number of modern metal framed chairs are stacked against the movable partition that divides the church space from other parts of building.
In front of the nave seating are several low teak coloured tables.
Several items in the church have dedicatory plaques.
The desk in the sanctuary:
A version of Albrecht Durer's 'Praying Hands' on the south wall of the vestibule:
Also in the vestibule a framed copy of Holman Hunt's painting, 'Light of the World':
A board over a set of doors leading out of the vestibule:
The hymn board in the nave: