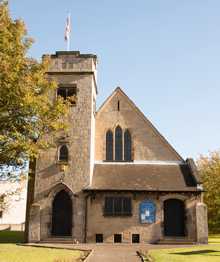 Mansfield
St Lawrence the Martyr
Newark Archdeaconry
Mansfield Deanery
Introduction
St. Lawrence's Church was opened in 1909 to serve the expanding population of Mansfield. Historically the district was part of the parish of St. Peter's and remained so until 1921. The church was designed by a local firm of architects and is built of local Mansfield Woodhouse stone. The site is formed by the convergence of two roads, Peck Hill and Skerry Hill, which join to create a roughly triangular site enclosed by low stone walls entered via a stone pillared gateway.
From its foundation the church was well used, with high numbers of baptisms and confirmations including adult baptisms. Attendance records for the 1930s show Easter Day communion services attracted congregations nearly two-thirds the capacity of the church.
Today the activities at St. Lawrence's have expanded to necessitate the use of a modern church hall on the opposite corner of Peck Lane and a former Wesleyan Methodist Chapel on Skerry Hill.
Particular thanks to Doug Fletcher for research on this entry and for the photographs