Newstead Abbey
St Mary
Monuments and Memorials
Click the numbers in the key plan for details of the items.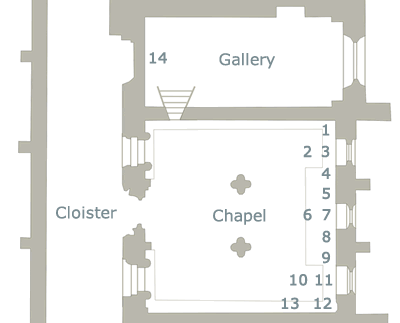 Key to Monuments
East wall
1. Edward Matthew Ellis (died 1962)
2. Captain Augustus Frederick Cavendish Webb (died 1854)
3. Algernon Frederick Webb (1865-1884)
Algernon committed suicide in 1884 while a student at Trinity College, Cambridge. At the inquest the jury returned a verdict that the 'deceased shot himself with a pistol while in a state of temporary insanity.'
4. Augusta Zelia Fraser (nee Webb) (1858-1925)
5. Geraldine Katherine Chermside (nee Webb) (1860-1910)
Part of the inscription is obscured by the altar.
Geraldine died at Andermatt in Switzerland while undergoing treatment for a heart problem.
6. Mary Webb (died 1860)
7. William Frederick Webb (1829-1899)
Webb bought Newstead Abbey from Thomas Wildman in 1860. He died at Luxor in Egypt on 24 February 1891 while travelling with two of his daughters and was buried at Cairo.
8. Ethel Mary Webb (1862-1915)

Part of the inscription is obscured by the altar.
Curiously, the newspapers at the time reported that she died on 11 February 1915, whereas the monument states the 9 February.
She was buried in the churchyard of Papplewick St James on 15 February.
9. Major Roderick Beauclerk Webb (1867-1916)
Major Webb died of a heart attack on 25 July 1916 while serving with the British East Africa Expeditionary Force. He is buried in Dar Es Salaam War Cemetery, Tanzania.
10. Wilfred Webb (died 1861)
11. Mabel Cecilia Webb (1864-1891)
Mabel died aged 25 from heart failure while under chloroform and about to undergo an operation.
12. Richard Hiscock Whitworth (1823-1908)
South wall
13. Sir Arthur Basil Markham (1866-1916)
Gallery
14. Thomas Wildman (1787-1859)
On the west wall of the Gallery.
Wildman purchased the Newstead Abbey estate in 1818.