North Leverton
St Martin
Organ
In 1847 the vicar and his friends financed a new organ after a cleaning and re-pewing of the church, much of the cost of which he also met. Glynne, in 1859, described it as a 'finger organ' Another organ was provided for the church in 1880 after the restoration of 1878 and was the subject of an appeal in 1934 when it was rebuilt. In the terrier of 1888 this organ is referred to as a 'Harston'. When the electric organ was purchased this organ was gifted to a boys' school.
Today the church possesses two organs, both are in the south aisle. One, a Hammond organ, was bought with funds raised from an appeal made in 1966. Bought by public subscription after a 1966 appeal, it replaced the 1880 organ. It remains in the church but is no longer in use.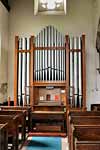 The second organ was purchased from the North Leverton Methodist chapel following a bequest from a parishioner of £1,000 which financed the removal from the chapel and re-fitting in St Martin's. This is the one now in use - a faculty for its installation being obtained in 2005.
The organ is a single manifold with the follow stops:
on the left

Principal

4

on the right

manual to pedal

Flute

8

Bourdon

16

Dulciana

8

Stopped diapason

8

Opened diapason

8
The pipe-rack contains 19 pipes arranged with three large to the left, thirteen placed centrally and three to the right.
It has a brass plate affixed just above the keyboard reading:
Tuning & maintenance by
Aistrup and Hind
Organ builders Ltd.
01522-526289
No maker's name is displayed.
The church also has a piano - given by a parishioner leaving the village. On the lid in gold paint it reads:
Est. 1847
Walter Parke
RETFORD