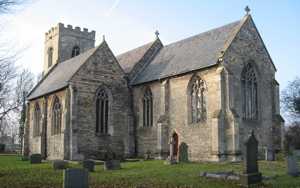 North Leverton
St Martin
Newark Archdeaconry
Bassetlaw and Bawtry Deanery
Introduction
North Leverton church lies back from the main street of the village and is virtually hidden from sight. It consists of chancel, nave, fore-shortened south aisle, porch, and low west tower.
Domesday Book describes North Leverton as a ''berewick'' of the soke of Laneham, but there is no mention of a church.
As the first part of the Beckingham prebend of York Minster, it was separated in 1291, and became the last of the prebends attached to the College of Southwell.
Built of ashlar stone, the church now consists of chancel, nave, south aisle, south porch, and an embattled western tower containing three bells.
The oldest feature is the Norman-Transitional south door of c1200 with semi-circular arch and one order of dog-tooth ornamentation. In the chancel are five windows with flamboyant–style tracery of the early-mid 14th century. The tower, which is the only part of the church to be embattled, is Perpendicular and of the 15th century with good quality limestone, ashlar-faced. It contains three bells which are not now in use (in 2016).
By the mid-19th century the church was in a much decayed condition. In 1847 a restoration of the chancel took place by G W Mason, lay rector, followed by restoration of the nave and south aisle in 1878, when a new font and organ were added.

With Habblesthorpe (or Apesthorpe) it once formed two separate parishes which were united in March 1884. Habblesthorpe church was in ruins by the early 18th century.
Particular thanks to Dee Ashton and her team for research on this entry and to Geoff Buxton for the photographs.