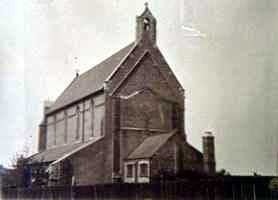 Nottingham
St Bartholomew
Nottingham Archdeaconry
Nottingham South Deanery
Introduction
St Bartholomew's Church, Bluebell Hill, had a comparative short life. A temporary iron church was erected the site in 1887, and a permanent church opened in 1902. The iron church remained as a church hall.
The church was built on open land, but it soon became surrounded by new housing. The Roll of Honour produced just after the First World War is evidence of the large number of the men in the community who served in the conflict. It contains 704 names, all members of the parish and congregation. In total 136 were recorded as killed.
The church had a nave with north and south aisles, a south porch (the main entrance) and a door through the west wall leading to the central aisle. It was built of local sandstone with limestone trimmings and coping. The roof was of Welsh slate. A projected chancel and a tower, although planned, were never built.
Many of the interior fittings of the church were given in memory of former church members.
The church was closed and demolished in 1971 as part of a wider demolition project in the area. The rebuilding of the housing stock, albeit at a lower level of density, commenced almost straight away, and there is today no physical evidence of the church.
Particular thanks to Doug Fletcher for research on this entry