Ollerton
St Giles
Glass
Chancel
The east window was commissioned from Heaton, Butler & Bayne by Cecil George Savile Foljambe and erected in 1873. According to a brass tablet on the north wall of the chancel the window commemorates his first wife, Louisa Blanche, who died in 1871. It depicts the Crucifixion, Entombment and Resurrection of Christ, and below instances of Christ raising the dead to life. The inscription on the tablet reads:
THE EAST WINDOW OF THIS CHURCH WAS PAINTED BY
CECIL GEORGE SAVILE FOLJAMBE ESQRE OF COCKGLODE IN THIS PARISH,
WHO AT THE SAME TIME CAUSED THE WALLS OF THE CHANCEL TO BE LINED WITH
PINE, AND THE FLOOR TO BE LAID WITH TILES.
TO THE GLORY OF GOD AND IN MEMORY OF HIS BELOVED WIFE
LOUISA BLANCHE FOLJAMBE THE ELDEST DAUGHTER OF FREDERICK JOHN HOWARD ESQRE
AND LADY FANNY HIS WIFE (ONLY SISTER TO WILLIAM VII DUKE OF DEVONSHIRE)
SHE WAS BORN AT 1 BELGRAVE SQUARE, LONDON 23RD FEBY 1842, MARRIED AT ST JAMES'S
PICCADILLY, 22ND JULY 1869, AND DIED AT COMPTON PLACE, SUSSEX, 7TH OCTOBER 1871.
HAVING HAD TWO SONS OF WHOM THE ELDEST ALONE SURVIVES HER.
HER MORTAL REMAINS ARE LAID IN THE FAMILY VAULT AT SCOFTON IN THIS COUNTY
BY THE SIDE OF THOSE OF HER SECOND SON FREDERICK COMPTON SAVILE FOLJAMBE,
WHO WAS BORN AT COMPTON PLACE, 20. AUG, 1871, AND DIED THERE 21 AUG 1871.
"AND NOW LORD WHAT IS MY HOPE, TRULY MY HOPE IS IN THEE."
East window

Memorial plaque
for the east window
Detail of window
Detail of window
Detail of window
Nave

South-east nave
window

Detail showing
St James
The easternmost window in the south wall of the nave was also commissioned from Heaton, Butler & Bayne by C. G. S. Foljambe and installed in 1875. It portrays the 12 apostles and is dedicated to the widow of the Hon. Savile Henry Lumley who died in 1869. The inscription at the bottom of the window reads:
TO THE GLORY OF GOD & TO THE MEMORY OF MARY HENRIETTA WIDOW OF
THE HON

ABLE

SAVILE HENRY LUMLEY OF COCKLODE SHE DIED 5 JULY 1869 AGED 81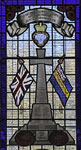 The westernmost window in the north wall of the nave is dedicated to the Ollerton District Branch of the Royal British Legion.