Ollerton
St Giles
Monuments and Memorials
Nave
There is a grave marker to Colonel Thomas Markham of Ollerton Hall who was buried here in July 1643 after being killed in battle at Gainsborough. The stone was probably moved to its present position from the floor on the north side of the church in 1902. The inscription reads: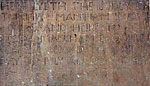 HERE LYETH THE BODY OF
THOMAS MARKHAM ESQVIR[E]
SONNE AND HEIRE TO
GEORGE MARKHAM ESQVIRE
WHO DISCEASED THE XXII
DAY OF JVLY AN : DOM 1643
On the east wall of the nave are a marble monument in memory of Henry Keyworth (died 1825) and a brass tablet commemorating Lucy Ann Shacklock (died 1906):

Sacred
to the Memory of
HENRY KEYWORTH Esqr.,
late of Rufford,
Fellow Commoner of Christ's College CAMBRIDGE,
who departed this Life on the 15th day of April 1825,
in the 23rd year of his age.

TO THE GLORY OF GOD
AND TO THE MEMORY OF
LUCY ANN SHACKLOCK,
WHO FOR THE LONG PERIOD OF THIRTY FOUR YEARS
FAITHFULLY PERFORMED THE DUTIES OF
ORGANIST IN THIS CHURCH,
DIED JULY 26TH 1906, AGED 52.
THIS TABLET IS PLACED HERE BY THE
PARISHIONERS OF OLLERTON, AND OTHER FRIENDS
SEPTEMBER 1906.

There is a hatchment attached to the panelling on the west side of the organ.
It is probably of Louisa Blanche (Howard), first wife of Cecil George Savile Foljambe, Baron Hawkesbury, 1st Earl of Liverpool, who died in 1871.
Chancel
On the south wall is a brass plaque in memory of Cecil George Savile, the 4th Earl of Liverpool who died in 1907:
SACRED TO THE MEMORY OF
CECIL GEORGE SAVILE, 4TH EARL OF LIVERPOOL,
OF KIRKHAM ABBEY, YORK; HASELBECH, NORTHAMPTON; AND OLLERTON HOUSE, NEWARK.
SON OF GEORGE SAVILE FOLJAMBE AND SELINA, VISCOUNTESS MILTON, HIS WIFE.
HE WAS BORN AT OSBERTON, NOVEMBER 7TH 1846 AND DIED AT KIRKHAM ABBEY,
YORK, MARCH 23RD 1907 AND WAS BURIED IN THE VAULT AT SCOFTON, NOTTS.
HE WAS FORMERLY A LIEUTENANT R.N. AND SERVED IN THE NEW ZEALAND WAR 1863-1864;
WAS M.P. FOR NORTH NOTTS AND THE MANSFIELD DIVISION OF NOTTS 1860-1892, AND WAS
LORD IN WAITING TO H.M. QUEEN VICTORIA 1894-1895, AND LORD STEWARD OF H.M. KING EDWARD VII'S
HOUSEHOLD FROM 1905 TO 1907; FOR TWENTY EIGHT YEARS HE WAS A CONSTANT WORSHIPPER IN
THIS CHURCH AND THIS MEMORIAL IS ERECTED BY HIS SON, ARTHUR 5TH EARL OF LIVERPOOL.
"I KNOW THAT MY REDEEMER LIVETH." JOB XIX, 25

There is also a brass plaque to the local doctor, Edward Wright, who died in 1911: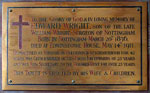 TO THE GLORY OF GOD & IN LOVING MEMORY OF
EDWARD WRIGHT, SON OF THE LATE
WILLIAM WRIGHT, SURGEON OF NOTTINGHAM.
BORN IN NOTTINGHAM MARCH 20TH 1836,
DIED AT EDWINSTOWE HOUSE, MAY 14TH 1911.
HE PRACTISED AS SURGEON IN OLLERTON & NEIGHBOURHOOD FOR 42
YEARS, WAS CHURCHWARDEN OF THIS PARISH FOR UPWARDS OF 25 YEARS
AND WAS HON: SECRETARY TO THE RUFFORD HUNT FOR OVER 25 YEARS.
THIS TABLET IS ERECTED BY HIS WIFE & CHILDREN.