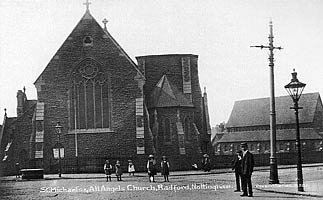 Radford
St Michael and All Angels
Nottingham Archdeaconry
Nottingham South Deanery
Introduction
The Church of St Michael's and All Angels Radford was built as a chapel-of-ease to St. Peter's Church, Old Radford. The church site at the junction of Alfreton Road and Hartley Road (formally Outgang Lane), was originally glebe land belonging to St. Peter's, and was sold to the Player family, who then donated it back to St Peter's to provide the site for a new church.
A traditionally built Mission Hall of some size was erected on part of the site and opened in 1884. In 1888 plans were prepared for a more permanent building. It was to be a landmark structure with a tall spire atop a square tower. Part of the money received from the land sale was allocated to the project. Unfortunately the site proved to be less than ideal, with deep excavation needed for the foundations at additional cost.
St. Michael's remained a chapel-of-ease until 1913, when it became a parish in its own right.
By the 1960s plans were made to demolish many of the terraced houses which formed the eastern part of the parish and eventually replace them with tower blocks. With falling congregations the church was closed, and after standing for a little while with its windows boarded over it was demolished in 1975.
Little appears to have been salvaged from the building. The cleared site was sold for commercial use and later a local Further Education college built a satellite unit providing facilities for local residents.
Particular thanks to Doug Fletcher for research on this entry and for the images.