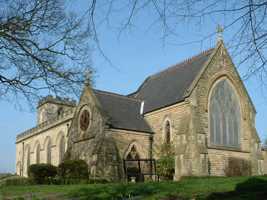 Radford
St Peter
Nottingham Archdeaconry
Nottingham South Deanery
Introduction
The parish of Radford was separate from Nottingham until 1877, when it was brought within the borough boundaries. St Peter's on Hartley Road, known today as the church of Old Radford, served the whole parish until the 1840s, although the present building is a new church of 1812 by Henry Moses Wood in Early English and Geometric Decorated styles. It replaced an earlier building described in 1811 as 'damp and ruinous', and of which little remains. The chancel of the present church is an addition, consecrated in 1872.
Radford's proximity to Nottingham led to industrial and population overspill. From 2,269 people in 1801, the population of the parish grew to 12,637 by 1851. Much of the growth was on the eastern side of the parish, which came to be known as New Radford. To cater for the needs of these areas new churches were built and new parishes formed: Christ Church, Ilkeston Road, 1847; St Michael and All Angels (built 1889, created a parish in 1914); and All Souls, Ilkeston Road, 1904. Mission halls, and numerous nonconformist chapels were also built in the area, but while many have subsequently been demolished, St Peter's remains as the parish church.
St Peter's is built in stone with Westmorland slate roofing, and consists of a chancel, nave, small vestry, organ chamber and a low embattled western tower containing two bells, re-hung when the current church was built in 1812.
Particular thanks to Valerie Stanley, Peggy Hodge and Janet Mellors for research on this entry