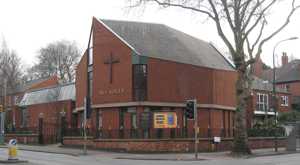 Radford
All Souls
Nottingham Archdeaconry
Nottingham South Deanery
Introduction
All Souls Church, Radford (1895-1979), was the last Anglican church of the 19th century to be erected in Radford. The grand design produced in 1894 was never fully implemented due to a lack of funding. The great tower was to remain truncated and the chancel never materialised. A vicarage adjoining the church was, however, erected soon after the church was open thanks to the generosity of a local benefactor. Likewise, a substantial Parish Hall building was erected in 1914. Both the latter are extant in 2014 though not used for their designed purpose.
Throughout its 84 year life All Souls reached out to all corners of its parish, opening Mission Halls offering facilities for young people and families. In times of need benefactors supplied food for the parishioners and funded the work of the church.
In 1943 nearby Christ Church was closed and for seven years its parish was in the care of All Souls before finally being fully absorbed into All Souls in 1951. Changing population and church attendance due to housing redevelopment and relocation may have influenced the decision in 1979 to close and demolish the church allowing a new multi-purpose building, including a space for the new All Souls, to rise from its ashes.
Particular thanks to Doug Fletcher for research on this entry and for the photographs.