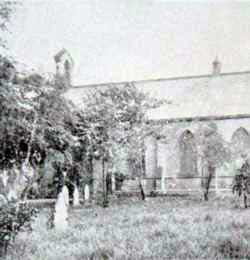 Radford
Christ Church
Nottingham Archdeaconry
Nottingham South Deanery
Introduction
Christ Church on Ilkeston Road, Nottingham, was consecrated in 1943 to serve the expanding eastern district of the parish of St Peter's, Radford. It served the community actively for 98 years before being closed in 1943 under a War Emergency regulation. It was never reopened with the parish united with All Souls in 1948 and the building demolished in 1951.
In its lifetime it was served by eight incumbents and for its final five years a Priest in Charge, The Curate of All Souls. During its active years the church in one of the poorest areas in the city was well supported by local business owners, without whose financial involvement the church may not have come into being or survived.
Today we can still walk into the pleasant former churchyard, part of which is a children's recreation ground and part a Garden of Rest. Entered through the same iron gates set into the same Bulwell Stone wall, part of the south wall of the nave has been left for us to see a little of the glory that was Christ Church.
Particular thanks to Doug Fletcher for research on this entry and for the photographs.