Radford Christ Church
Churchyard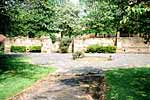 The churchyard
The site of the church and the churchyard is well preserved in the ownership of the City Council. It is currently used as an enclosed green space in a busy residential area of the city.
The churchyard is currently mainly enclosed by sandstone walls on all four sides. The northern section of the boundary is the south wall of the church now reduced to approximately 1.8 metres high and sealed with an in-situ cast concrete coping. On the inner southern face of this wall the piers which once supported the roof are extant to the same high. At both ends of this wall the boundary is completed with sections of modern round iron fencing. Old maps suggest that the churchyard originally extended northwards to Grant Street covering what is now a children's recreation area. This land was originally allocated for the erection of a school and vicarage. In 1871 the plans for the later were abandoned, and the land was later added to the churchyard.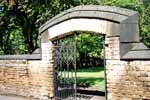 Entrance gates
The east and west boundary walls of the same stone appear to be original. The west wall is several metres high retaining the land on the rising ground behind it. A wooden fence further increases its height. On the east side the boundary wall bordering Ronald Street. This wall has Hog Back copings of a darker stone. Whilst the south wall has the same stonework arrangement it is also the location of the main entrance gates to the site and would have originally served as the main entrance to the church leading to the south porch. The arch gateway is intact as are the heavy, decorative wrought gates which are locked each evening. The wall around the site cost £300 to build.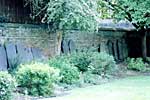 Grave markers against
the west wall
A number of grave markers are located against the west wall. These are mainly of blue slate with clear inscriptions dating from 1859 to 1890. Some stone markers also remain but erosion has removed most of the inscriptions. A few larger stone markers are laid flat together with five heavy casket shaped grave stones; sadly a number of broken memorials are also present.
It is probable that as the site was not allocated for housing use the burials were left undisturbed. Mature trees now flourish within this quiet site and park benches offer resting places for visitors.