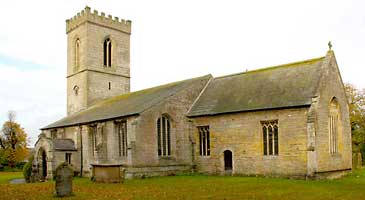 Rampton
All Saints
Newark Archdeaconry
Bassetlaw and Bawtry Deanery
Introduction
Although there is mention of a church in Domesday Book, there is no evidence of a Saxon church in the present building.
The church today consists of an embattled tower, nave, north and south aisles, south porch and chancel.
The slim two-stage west tower is Early English in masonry and proportions. The belfry has four two light windows of c1300 and contains 4 bells dating from 1662. There is a single clock face to the south. Above the hood-moulded pointed arched west doorway is a Perpendicular window. In the nave, the north arcade is c1300 and the south arcade is 15th century, both have octagonal piers and double chamfered arches. The south porch is Perpendicular but the south doorway is of the Early English period.
The west wall of the north aisle has a single arched two light window with tracery. The west wall of the south aisle has a single three light-arched window with 14th century panel tracery. The east wall has a 16th century three light arched window with original lead. In the chancel is a Perpendicular east window. There is an arched doorway with a wooden door and single 16th century windows with three lights on either side.
The font bowl appears to be Norman but the pedestal and base are probably of the Decorated period. A small piscina is located in the south wall, which is possibly a unique example of an early wall type. There is also a second piscina in the south aisle wall.
The church was renovated and the chancel restored in 1894. In 1902 the roof of the nave was restored and the church was partially reseated.
Particular thanks to Nathan Ladd, Chris Brooke, Andrew Nicholson and Nicholas Rogers
for research on this entry and to Geoff Buxton for the photographs.