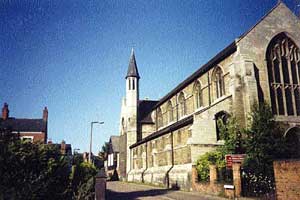 Retford (Ordsall)
St Alban
Newark Archdeaconry
Bassetlaw and Bawtry Deanery
Introduction
St Alban's church was built in three stages (1902-3, 1912-13, and 1930-31) when sufficient funds were available. Although only half a mile from Retford town centre the church is, in fact, in Ordsall parish and was originally built as a chapel-of-ease to Ordsall All Hallows designed to serve the growing population of South Retford and Newtown.
From the 1930s to the 1950s it was thriving, though like elsewhere membership shrank steadily through the following decades. For a while in the 1990s it took on new life as a local community arts centre, but the church closed in 2003.
In 2008 the building was severely damaged by fire, having previously been subject to vandalism.
Thanks to Andy Nicholson and Amy Calladine for research on this entry
and to Geoff Buxton, Dr Chris Brooke, and Bassetlaw Museum for the photographs