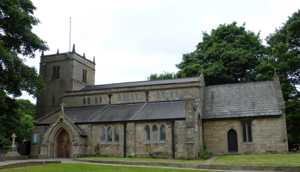 Skegby
St Andrew
Newark Archdeaconry
Newstead Deanery
Introduction
Skegby Church was originally a chapel of ease of Mansfield St Peter, dating from 1571.
The stone building consists of a chancel, nave, north and south aisles, south porch and west tower with pinnacles and three bells dated 1684, 1737 (recast 1908) and 1830.
A fragment of Norman masonry remains at the base of the tower. The Norman chancel arch was destroyed during restoration by Stevens & Robinson of Derby in 1869-70, when the north aisle, clerestory, organ chamber, porch and vestry were added and the south aisle rebuilt and extended.
The interior is plain with white walls. There is a medieval piscina in the south aisle and a stone pulpit. The altar and reredos date from 1947.
Two ancient stone effigies, one of which is said to be a forester Edmund Spigurnell and his wife, although Pevsner doubts it. Also there is a kneeling figure of a priest against the south wall. The walls have old tombstones inserted bearing emblems such as a chalice, sword and shears. There is a memorial tablet to John Lindley (d1797) by William Stretton of Nottingham. There are also others for Lydia Morley (d1768) and members of the Sheppard family.
The manual pipe organ was added in 1873 and altered to electric in the 1940s. In 1980 it was replaced with a Norwich two manual electronic organ. The east window by Kempe was installed in 1893 in memory of Frederick Taverner, the first vicar in 1860 when the parish was formed.
The church was in a ruinous state in the late 19th century due to subsidence caused by coal mining. Girders were used to repair the tower, the chancel arch was supported by timber balks and an iron band put round one column. The floor was uneven with cracks in the walls. In 1984 the chancel was entirely demolished and rebuilt due to mining subsidence.