Staunton
St Mary
Bells
Inscription
Dated
Founder
Size
Weight
1

1742†
Thomas I Hedderly
26.00"
3-1-11
2

1827
James III Harrison
27.50"
3-2-3
3

1827
James III Harrison
29.13"
4-0-7
4

1738†
George III Oldfield
32.00"
5-0-3
5

All men that heare my mournful sound
repeal before you lye in ground

1604
Henry II Oldfield
36.38"
7-0-1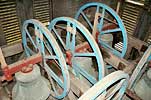 In 1900 the bell-stage was described as having a well-moulded parapet and conical roof with a two-light transomed window on each face. It contained five bells dated 1604, 1738, 1827, 1827, and 1742 respectively. They were hung in a wooden frame of 1853.
One of the bells includes the name of Gilbert Charlton, rector 1738.
The church terriers of 1817 only speak of four bells, which was the case in 1740 and 1764. In the 1552 inventory there were only 'ij lytell bells [and] one handbell'
The bell tower's fittings and plain bearings were made by the Taylors in 1904 until they rehung the bells in the old frame.
The tenor was by Henry II Oldfield in 1604. Upon it is an inscription 'All men that heare my mournful sound repeal before you lye in ground'.
The 1738 bell was founded by George III Oldfield, and is a rare example of his work; it has his initials stamped onto the bell.
Two of the bells were founded by James III Harrison and are dated to 1827. These bells were cast at Gainsborough to replace one of the bells that had sustained a crack. It was reported that Harrison recast one of the church bells with metal from the two Kilvington bells.
The treble bell is an early bell by Thomas I Hedderly founded shortly after he took over the Oldfield's foundry in Long Row, Nottingham; it is dated to 1742.