Staunton St Mary
Features and Fittings
Chancel

There is a piscina in the south wall of the chancel.
Nave
Font
Font
Detail of
font bowl
The font dates from the 12th century and is ornamented with interlaced arcading.
It has a modern octagonal base and the circular step is made from a 15th century cross slab still bearing a partial inscription. Gill suggests that this formed part of the cross slab of Thomas Staunton, son of Radulphus, who died in April 1446.
Pulpit
| | |
| --- | --- |
| Pulpit | Lectern |
The traceried four-sided oak pulpit has a stone base and dates from 1912.
Lectern
The brass eagle lectern also dates from 1912.
Chancel screen
The traceried chancel screen is made from sections of a fine early 16th century rood screen which no longer has its rood loft. Parts of a raised black-letter inscription survive. The transcription below was made by Robert Staunton in the late 16th century when the screen was still intact:
Praye for the saule of Mayster Symon Yates bachelar of Law borne in Newarke Parson of this church and of Beckyngh[a]m and official of the Archedenry wch in his lyf of his own ppere expenses of his charetie caused this Rode Lofte and the Tabnacull of o[u]r Ladie to be maid in the yere of our Lorde mcccccxix on whose saul God have mercy amen.
Chancel screen
Detail of upper part
of the chancel screen
Detail
Detail of inscription
Poor box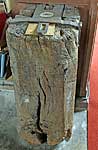 There is an alms box at the back of the pews that has been cut from a single tree trunk and has iron straps. It may date from the 17th century.
Hatchments
There are five funeral hatchments of the Staunton family in the nave: three are along the south wall of the nave and two are on the nave wall at the east end of the north arcade.
South wall of
nave (east)
South wall of
nave (middle)
South wall of
nave (west)
North wall of
nave (east)
North wall of
nave (west)
Stove heater

In the nave is a 19th century circular cast iron radiation stove heater. It has an inscription that reads:
Ventillating Coy Gurney Patent The Warming
North Aisle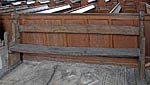 There are two 'unusually carved oak benches' dating from the 16th century in the north aisle.