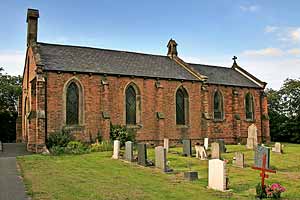 Stoke Bardolph
St Luke
Nottingham Archdeaconry
Gedling Deanery
Introduction
Stoke Bardolph lies next to the banks of the River Trent. It is two miles east of Gedling. It belonged to the parish of Gedling for over 900 years.
A priest and church are mentioned here in Domesday.
St Luke's is situated at the east end of the village, near the river. The current building, near or on the site of an ancient building, is a plain brick chapel with stone dressings. It dates from 1844, but subsequent alterations have included an extension to the chancel built in 1910.
The church is a simple rectangular, single-celled building, measuring 33 feet by 21 feet, with a western turret containing one bell.
All the interior fittings are plain.
The church was not licenced for weddings until 1965.
Particular thanks to Emily Knight, Chris Brooke and Andy Nicholson for research on this entry
and to Geoff Buxton for the photographs.