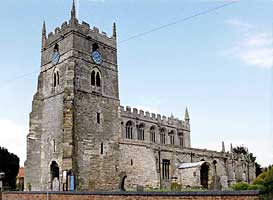 Sutton on Trent
All Saints
Newark Archdeaconry
Newark and Southwell Deanery
Introduction
All Saints, Sutton on Trent, is a substantial church set in a large churchyard on the south-eastern edge of the rather scattered village, not far from the River Trent, with distinctive water meadows and grazing lands (holmes). There has probably been a church here since Anglo-Saxon times and it is recorded with its priest in Domesday Book though there are no traces of fabric earlier than the 13th century visible. The early 16th century saw the addition of an impressive chantry chapel and major refurbishment of the rest of the church, with the insertion of a clerestory and the heightening of an already impressive tower. In the 19th century and early 20th century, there were several separate campaigns of restoration, of which the most important was in 1902-3 when substantial work was done to consolidate the tower. This contains a ring of eight bells cast between 1922 and 1931, five from earlier bells.
This large village church comprises a nave with north and south aisles, a south porch, chancel with large south (Meering) chapel, and a substantial west tower. The core of the nave fabric dates from the 13th century, as does the tower, the aisle arcades and chancel arch. In the chancel are a few poppy-headed bench ends, probably dating from the 15th century. The Meering chapel is traditionally dated to c1525 with rich, ornate panelled battlements and four-light windows which contains some fragments of original stained glass. Between the chapel and the south aisle is a rare survival of an intact rood screen and loft, complete with stairs also dating to 1520-1540.
Among other points of historic interest, there is also a 15th century octagonal font with a 17th or 18th century two-tiered cover, and a finely-carved 18th century pulpit.
Particular thanks to Prof Michael Jones for research on this entry
and to Geoff Buxton, Prof Michael Jones and Dr Chris Brooke for the photographs.