Thoroton St Helena
War Memorial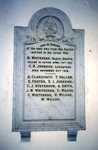 The War Memorial is sited on the north wall of the north aisle. Made of white marble with black engraved lettering in upper and lower case, it measures approximately thirty-six inches high by twenty inches wide.
It is inscribed as follows:
1914
1919
To the Glory of God
and in honour
of the men who from this Parish
served in the Great War.
H. WHITEHEAD, NORTH STAFFS.
KILLED IN ACTION APRIL 14TH 1917
C.H. JOHNSON, LEICESTERS
DIED NOVEMBER 20TH 1918
A. CLARICOATS, T. HALLAM,
E. FOSTER, S.I. JOHNSON,
C.J. STEVENSON, A. SMITH,
J.M. WHITEHEAD, G. WILCOX,
G. WHITEHEAD, H. WILCOX,
W. WILCOX
There is no inscription for men and women of the Second World War and no ranks or specific years are given, apart from the first two names.