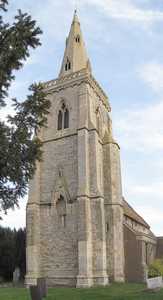 Thoroton
St Helena
Nottingham Archdeaconry
East Bingham Deanery
Introduction
The church of St Helena is a small church which is now part of the Cranmer Group of churches for which the incumbent is based at Aslockton. It was heavily restored in the nineteenth century after being struck by lightning.
The history of the church is one of little incident, apart from the aforementioned lightning strike. It would seem that there was a priest at the time of Domesday, but no building. In 1093 it was given to the See of Lincoln by William II Rufus, and in 1776 was transferred from the Hundred of Thurgarton to the Hundred of Newark.
During the eighteenth century it was considerably neglected; there is reference to the chancel being in need of rebuilding in 1715, but nothing being done, and by 1844 the chancel, porch, and north aisle had disappeared and the north arcade had been walled up.
In many ways the lightning strike of 1868 saved the church, as a major restoration was set in place as well as the repair of the damage caused.
Features of interest are the coloured windows of the 1860s and the decorated niche in the west face of the tower. In the churchyard is the grave of Ethel Manson, the first state-registered nurse.
Particular thanks to John Kitchen for research on this entry