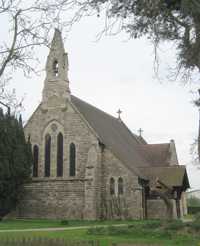 Aslockton
St Thomas
Nottingham Archdeaconry
East Bingham Deanery
Introduction
Aslockton was the birthplace of Thomas Cranmer, Archbishop of Canterbury in the time of Henry VIII and principal author of the Book of Common Prayer. However, a few years after Cranmer died in 1556 the medieval chapel-of-ease dedicated to Holy Trinity in the village was converted to domestic use and from then on the inhabitants had to attend the church at Whatton.
The church of St Thomas was built in 1891-2 from designs by Sir Arthur Blomfield & Son. It consists of a chancel, nave, south aisle, porch and vestries and was constructed in Ancaster stone with a red brick interior. Pevsner criticised it for being 'utterly insensitive to the county or scenery'.
The church was erected in memory of the Rev Thomas K Hall, former vicar of Whatton, who drowned in February 1890 as RMS Quetta was wrecked off Queensland on her way to Thursday Island. His mother, Mrs Sophia E Hall, paid for the church. The Quetta window on the north wall depicts the story of the shipwreck; it was designed by Michael Stokes of MDS Stained Glass in 2002. The tragedy actually resulted in two churches being built: St Thomas' in Aslockton and the Quetta Memorial Cathedral on Thursday Island.
The east window, again by Stokes, is dedicated to Thomas Cranmer. It depicts Jesus showing his hands to Doubting Thomas.
The square font shows fishes behind a net. The organ by Brindley and Foster of Sheffield, was rebuilt in 1992.
The new Thomas Cranmer Centre, a large extension on the north side of the church, was dedicated in 2010.
Thanks to Tim Southall and Robert James for research
and Geoff Buxton and Jane and Bill Paulson for photographs