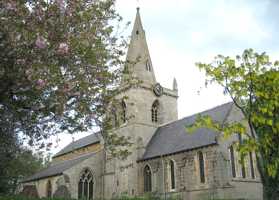 Whatton
St John of Beverley
Nottingham Archdeaconry
East Bingham Deanery
Introduction
The Domesday Survey of 1086 does not mention a church at Whatton, and it was 1188 before the name of Robert Fitzwalter was given as the first known vicar of this church, with the unusual dedication of St John of Beverley. This saint was popular in the north rather than the Midlands.
In the early 12th century Robert de Whatton's daughter Adelina gave the living to the Premonstratensian Canons of Welbeck. At the Reformation, this advowson was given by Edward VI to Thomas Cranmer from nearby Aslockton.
The church was cruciform in shape with a central tower and spire and built mostly in late 12th to late 13th century in style.
Since then the fabric has been considerably restored, with the chancel entirely rebuilt in 1846 and a major restoration carried out in 1870-71. This was overseen by the Rev T Butler of Langar, father of the author Samuel Butler.
The present font bears the date 1662; the organ was built in 1878 and the reredos dates from 1886. Four of the eight bells were cast in 1618 by Henry Oldfield. There are register dates from 1538 although those from 1597 to 1662 have been lost. In 1904 the marriage resisters were edited by W P W Phillimore and J Ward and published by the Parish Register Society.
Features of interest include two windows, one by William Morris from an Edward Burne-Jones design and one by C E Kempe. There is an incised floor stone commemorating Thomas Cranmer's father and effigies of Sir Hugh Newmarch and Sir Richard de Whatton.
Particular thanks to John Kitchen for research on this entry
and to Janet Greasley fro providing much of the information