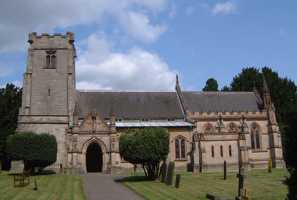 Widmerpool
St Peter
Nottingham Archdeaconry
East Bingham Deanery
Introduction
The Domesday survey records neither church nor priest in Widmerpool. The original structure of timber and blue limestone, acquired locally, was dedicated to both St. Peter and St. Paul in the 13th century. The dedication to 'St Paul' was removed during the Reformation.
St Peter's is situated on Old Hall Drive (a private road). Its main claim to fame is its beautiful alabaster effigy of Harriet Robinson, wife of the owner of Widmerpool Hall, in the north-west corner of the church.
It is uncertain how long there has stood a church on this site but there is a reference to the later church emanating 'from the original medieval structure'. There is a reference in Archbishop Giffard's register to an inquisition relating to the church held in 1272. The parish register has records dating from 1539.
The old church was in a poor state of repair and neglect when the Robertsons acquired the estate and was heavily restored in 1832. After a lightning strike in 1836 the church was restored yet again in the period 1888-1895 at a cost of £10,000. This involved considerable financial help from the Robertson (Robinson) family. The tower remains from the medieval church and is of the 14th century.
Particular thanks to Alan and Pam Clarke for research on this entry
and to Geoff Buxton and Dr Chris Brooke for the photographs.