Wollaton Park St Mary
Features and Fittings
Font
The font is a copy of the one made for the great Cluniac Priory of Lenton in 1108. It is hewn from a cube of stone and the bowl is symmetrical within the square, thought to be large enough to immerse a baby.
There is also a mobile font.


Church furniture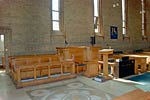 Pulpit, lectern and stalls
The altar, pulpit, lectern, reading desk, pews, choir stalls, communion rails and communion table are all made of light oak.