Worksop St Paul
Features and Fittings
Pews: simple softwood benches arranged diagonally throughout the nave; probably 1967.
Bookshelf: on east (liturgical west) wall by entrance doorway, wood.
Wooden stool: in south-east corner, with candle and bowl on top, appears to pre-date the church.

Book stand: against east (liturgical west) wall, wooden, hexagonal, of similar style to other c.1967 furnishings. Book of remembrance on reading stand at top.

Font: located in baptistery on the south side of the nave. Octagonal, timber with stainless steel inset for the bowl, set on fluted, wooden, hexagonal column, the fluting of lighter wood applied to a black substrate. Probably 1967.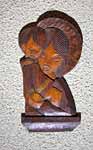 Carving: adjacent to the font in the baptistery is a wooden carving, hung on the wall, depicting the Blessed Virgin Mary and Child, in modern style.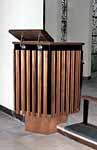 Pulpit: wooden, similar design to the font with lighter wood fluting applied to a black background. Square with smaller, plain wooden base and reading stand applied to the front. Probably 1967.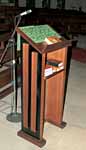 Lectern: wooden, design as for the font and pulpit, sloping reading desk with single shelf below. Probably 1967.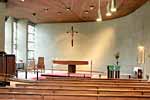 Altar: rectangular wooden table with design similar to other fittings having a circular, fluted wooden column in the centre. Probably 1967.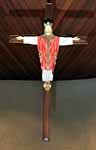 Calvary: suspended behind the altar, wooden image of the Crucified Christ on the cross, Chris dressed in red and white robes of a priest
Aumbry for Reserved Sacrament: located on the north wall of the sanctuary with miners' lamp above.