Worksop St Paul
Glass

Section of the
liturgical west window
The east end (liturgical west) of the church is filled with two large windows, each of five lights that span floor to ceiling. Each light is filled with bold sequences of coloured glass sections, seemingly random. Colours are light, and range from blue/cyan through orange and yellow to pink and colourless.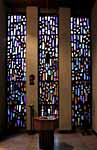 Window by
the font
The window by the font on the south side comprises three lights, spanning floor to ceiling, containing dark coloured sections of glass, mainly blues and purples, with some use of red and orange.
The four windows in the Sanctuary are of similar design but contain plain glass.
The whole glass scheme accords with the architects proposals of 1967 which stated that there should be 'thick, coloured glass separated by brick pillars'. The artist is Hardman studios.