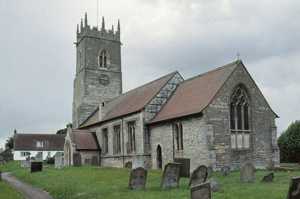 Askham
St Nicholas
Newark Archdeaconry
Bassetlaw and Bawtry Deanery
Introduction
There was no mention of a church in Domesday Book. Askham was described as an 'outlier' to the manor of Laneham.
Pevsner described St. Nicholas as having the 'usual west tower with eight pinnacles'. He noted as well that the aisleless church was tiled, a sign of the restoration of 1906-7 to which the south porch also belongs. Close to the porch clearly Norman masonry in the nave wall. The chancel north wall has a double lancet window. The chancel east windows are Decorated, nave windows later 14th century. At the junction of nave and chancel inside on the north a pretty diagonally placed ogee-headed niche (cf. Elkesley) – Piscina - ogee-headed with a fragment of an Early English shaft-piscina in front of it. Most of the shaft is broken off (cf. Gringley) – Altar rails - Late 17th century, with heavily twisted baluster.'
There are three bells in the tower, one of the mid-16th century, one later in the same century, and a third dated 1613. They are now hung on a steel beam but were formerly hung in a much-altered, king-post medieval bell frame.
The church is Grade II listed.
There used to be six almshouses in the churchyard, but in 1865 these were reduced to just three; they are no longer in existence. The church initially did not have a vicarage and was included as part of Lanum (Laneham), and East Drayton.
The church underwent restoration work to its roof in 1863, and then a major restoration to the entire church in 1907 under the Rev John Philip Wills, the interior was tiled and the south porch constructed.
The 1907 restoration discovered 'some curious niches in the north and south walls.'
Particular thanks to Emma Kilkelly for research on this entry
and to Geoff Buxton and Christopher Brooke for the photographs.